You can use either Lyft or Uber to get a ride from the airport. After you request the ride using the app on your mobile device, drivers will drop you off at departures curbs for both Terminal 1 and Terminal 3. Pickup locations for passengers taking Lyft/Uber are designated and listed below.
Terminal 1 Ride Share Pickup
If you're taking a ride share from Terminal 1, you'll need to go to Level 2 of the parking garage. To get there, take the elevator near Door 2 up from Baggage Claim. Once you cross the pedestrian bridge into the parking garage, look to your right and that's where the pickup area is located.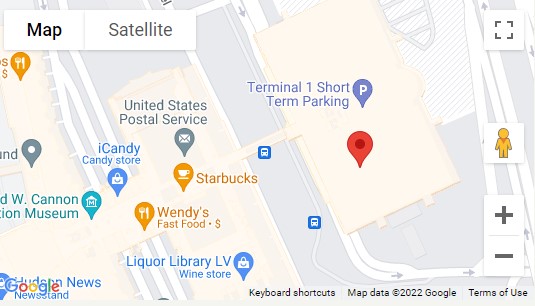 Terminal 3 Ride Share Pickup
To catch your ride from the Terminal 3 Ride Share, head to the Valet Level of the parking garage. From Baggage Claim, take an elevator near Door 52, 54 or 56 up to Level 1. Cross the pedestrian bridge to reach the parking garage, then take either the elevator or stairs down to Valet Level.
Summer Travel Advisory – Arriving and departing travelers in Las Vegas should anticipate longer-than-expected wait times for Lyft and Uber rides.