Driving Directions to the Cell Phone Lot
From Russell Rd
To reach Terminal 1 from Russell Road, turn left onto Paradise Road and stay in the right lane. Exit at "All Terminals" and keep to the right side, going under the bridge. Follow signs for Terminal 1 parking. After taking ramp to the immediate left following signs for "Terminal 1 Departing Flights," you will see signs for Cell Phone Lot.
Turn right at the sign that says "Cell Phone Lot," and drive until you reach a four-way stop sign. Keep driving straight through the four-way stop, and  you will see the entrance to the Cell Phone Lot on your left.
From Paradise
Paradise Road:
– Drive south
– Get in the 2nd lane from the left when multiple lanes appear
– Follow signs to T1 Economy Lot and Cell Phone Lot
Kitty Hawk Wy:
– At the light, turn right
Four-way stop:
– Turn right at stop sign then immediate left into Cell Phone lot
From I-215
Exit I-215 and follow the signs to the airport. Proceed through the northbound tunnel and follow the overhead signs to Terminal 1. Then, follow the signs marked "Departing Flights, Economy Parking, Terminal 3." Get in the right lane and proceed to the four-way stop sign at terminal 1 cell phone lot entrance.
Cell Phone Lot – Short Term waiting area
The Cell Phone Lot is a designated waiting area located only minutes from the Passenger Pickup Curbs at Terminal 1 and Terminal 3, where drivers may wait in their vehicles free of charge while friends and family deplane, retrieve luggage, and walk to the Passenger Pickup Curb.
This smooth paved lot with bright lights is open daily from 6 am – 1am, under 24 hour video surveillance by airport security cameras, as well as regularly patrolled by staff. Note that there are no restroom facilities available on site.
Cell Phone Lot to T1 Arrivals
Cell Phone Lot to T1 Arrivals

Cell Phone Lot to T3 Arrivals
Cell Phone Lot to T3 Arrivals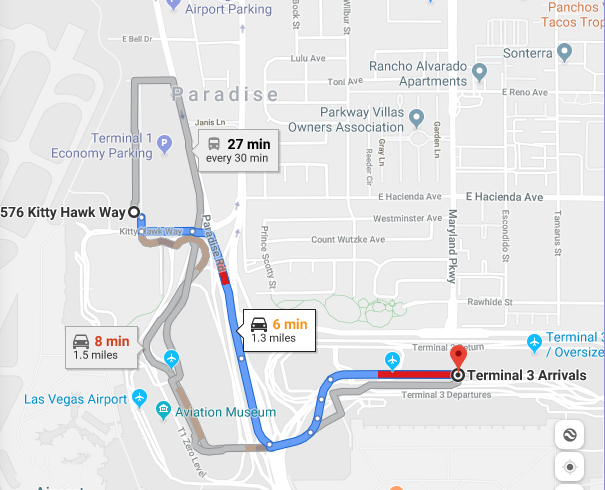 Please know:
The following are prohibited in the Cell Phone Lot:
– Unattended vehicles
– Commercial vehicles
– TNC vehicles
Additionally, parking or waiting on airport roadways or shoulders is not allowed. Those who violate these rules will be given a citation and/or towed.